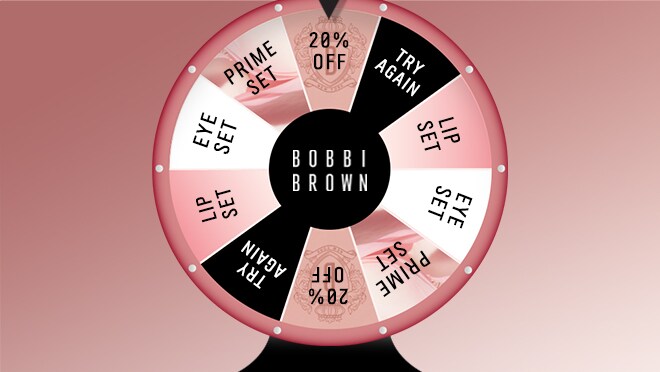 Play our Spin to Win Game for a chance to win discounts – up to 20% off – and prizes with your order.
Limited to three plays per customer.
everyday offers & services
*Offer starts on 4/19/21 and ends on 4/25/2021 at 11:59PM PT. One free gift with your applicable purchase* at bobbibrowncosmetics.com. You will have 3 chances per day to redeem a gift. After each spin you may either redeem the gift or spin again. If you choose to spin again instead of redeeming the gift, you will lose the gift. If you do not either (a) win a gift or (b) redeem a gift after your third spin, no gifts will be added to your cart. Offer available to U.S. residents only. Quantities are limited and offer is subject to availability, while supplies last. We reserve the right to substitute any free item offered with an item of equal or greater value. Only one per order. Offer is subject to change or cancellation without notice. Offer may not be used in combination with any other offer or discount. Free items are not eligible for returns or exchanges. *Applicable purchase amount and offer does not include the purchase of gift sets; eGift cards; sales tax; shipping and handling; items noted as not eligible; items that are not in stock at the time of purchase; pending purchases or purchases made prior to the start of the offer or after the offer ends. All purchases are subject to bank authorization prior to processing. Only authorized purchases will be processed and shipped. Other restrictions may apply.